Grant Elementary (Grades 1 & 2)

Contact:

Larry Achenbach - Principal




520 South Clinton




Albia, IA 52531

Phone:

641 932-2161 x126




Fax:

641 932-5192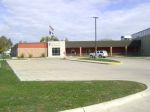 Grant Elementary is located at 520 South Clinton Street. The building was completely renovated during the 2010-2011 school year. The renovation included the addition of ten classrooms, a media center and gymnasium. The building enrollment is approximately 285 kindergarten, first, and second grade students. The grade level classrooms are self-contained. The curriculum is based on the Iowa Core standards with emphasis in developing reading, writing, mathematics, social and leadership skills. Grant is a Leader In Me school. Students are developing leadership and social skills based on the Seven Habits of Happy Kids written by Sean Covey. Parental involvement activities include volunteering during the school day within classrooms, assisting with field trips, special events and the Kendall-Grant Parent-Teacher Organization (PTO). A full range of special education programs are available to meet the needs of the students.